Upgrade your Modix V3 printer to Generation 4.0
Welcome to a new level of experience and usability!
This upgrade is a true game changer for your 3d printing experience for several reasons. It brings faster and more reliable printing and on top of all, the new IDEX ("Independent dual extruder") technology allows you to print in ways not possible before.
IDEX technology allows the idle print head to park outside the print bed, leading to a very clean transition between the main printing filament and support filament.
As a result you can print complex models including models with internal geometries, thin features that need support but could break easily and models with no flat bottom with ease. You can save a lot of post processing time needed for removing support by using a specially designated "easy breakaway support" filament. and you can even use the IDEX as a filament changer and not worry of spool ended during the night or weekend. This upgrade is a game changer and it will open your mind for new possibilities and will save you time. Slicing for IDEX is for advanced and experienced users.  Modix is developing a knowledge base that covers both material and slicing configurations. It will be published in a dedicated password protected customer zone for Modix's IDEX users.

Backwards compatibility is an important value at Modix. We spend a considerable amount of resources and attention to make sure owners of our previous printers models can continue grow with us along the way enjoying an ever improving printing experience and long term high return on their investment in our large format 3D printers.
Step up your 3D printing experience – order generation 4 upgrade today!
Improvements short summary:

IDEX – Advanced dual material printing where each extruder is driven independently. Dual material prints comes out clean since idle print head
is parked outside the print bed. As a result you can now enjoy3d printer upgrade
these capabilities:

1) Print models with internal geometries using soluble support filament.
2) Reduce post processing time by using easy breakaway support filament.
3) Receive clean and smooth down facing surfaces and sharp slopes. 
4) Print thin features that require support without fearing of breaking them.
5) Print models that do not have flat bottoms with ease.
6) Print faster without compromising details or resolution by using the same filament on both hotends while one has a larger nozzle or even better, Super Volcano on it. The thicker nozzle can do the infill while the other do the perimeter.
7) Enjoy continuous printing by using IDEX as an automatic filament changer.

Higher printing speed of up to 250mm/s and travel of 350mm/s.
Strong Nema 23 motors for your X axis for faster acceleration.
Precise position after job recovery thanks to optical end-stops.
Higher Reliability due to multiple improvements in wiring, motors strain reliefs etc.
Fresh new design with multiple enclosure improvements including: lid and door sealing, rigid door hinges, pneumatic top lid, back service hatch and more.
Fully automated gantry calibration and automated bed tilt based on the DUEX electronics expansion board (in case you haven't upgraded this yet).
High flow and impact resist Modix Griffin print heads.
Clog detector that can sense also under extrusions and filament run-outs.
Crash detector that can prevent damage to system if Z probe fails.
Upgrade Options and Lead time
Main upgrade options

There are two main upgrades: Complete and Basic. Read below about the differences.
* Scroll down for purchasing, photo gallery and in-depth details.
* BIG-40 is not yet supported, check more details below.

Main V3 to V4 upgrade – Complete– a complete replacement for your gantry system (X&Y) with new motors and brackets, IDEX printing sub-system including two Griffin print heads with their independent motion component) and a complete set of pre-wired electronic box (including DUET & DUEX expansion board).
You may keep older electronics and print-head components as spare parts.

Price:
Models: BIG-60, BIG-120X, BIG-120Z  – 2,200 USD
Models: BIG-Meter, BIG-180X – 2,600 USD
Main V3 to V4 upgrade – Basic

 

– With respect to customers who already own or upgraded to DUEX electronic board and Griffin print-heads, and feel comfortable with wiring the boards themselves, we offer a lowered upgrade price.

 

You will be receiving the electronic box and ready made wires and you will have to plug the board yourself and add your already owned Griffin hotends

 

(you can add it below).



Price:
Models: BIG-60 , BIG-120X, BIG-120Z  – 1,800 USD
Models: BIG-Meter, BIG-180X – 2,200 USD

Additional upgrade options (scroll down for details and pricing)

Enclosure upgrade
8KG spool shelf
Spare Griffin hotend
Super volcano
Super volcano to Griffin adapter (if you already have Super Volcano)
Clog & crash detectors.
In depth Upgrade details and ordering
"IDEX" stands for independent dual extruder, where each extruder can move independently from each other. As a result, while the active extruder is printing, the second extruder is "parked" outside the printing area. Therefore, printing advanced models with internal geometries is made possible by using water-soluble filament. IDEX also saves a lot of manual labor needed for support removal. Using a dedicated easy breakaway support filament allows easy support removal. It all also improves much the down facing surfaces quality since there is no need to keep a tiny air gap between the support and the model as you do when using the same filament type for support as for the model. Therefore, the model rests tightly on the support structure, and lower surfaces are printed and solidified on their precise location creating stronger bonding with higher levels, generating stronger parts with smoother surfaces. This also allows higher geometry freedom as you can now print objects that may not have a flat bottom and also thin features that may break by using the same-material support filament.
The IDEX affects the printing dimensions on Y axis only:
BIG-60, BIG-180X, BIG-120X & BIG-120Z  – Single print head (primary or Secondary) – 600 mm, overlapping (IDEX mode)- 540 mm
BIG-Meter- Single print head (primary or Secondary) – 1,000 mm, overlapping (IDEX mode) – 940 mm
Visual Tour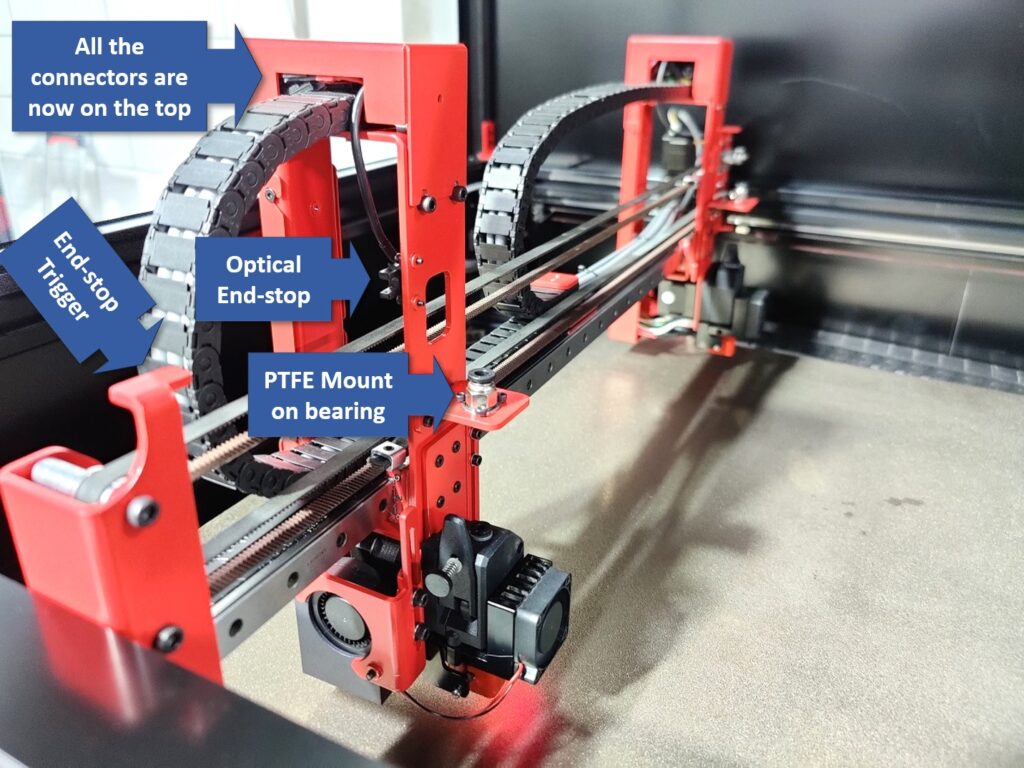 Priming stations
Moving the print heads independently and precisely over and over again is one thing, the real challenge is to make it work for days without any clog.
Modix has developed several strategies to overcome these and other IDEX related challenges and one of them is these priming stations.
Clean wires routing
All the wires connectors are now under
the top cover and not at the bottom as before. Since each print head carries only its own wires, it is very easy now to locate the right connector you need.
Two lightweight tiny drag chains fold in on each other during their respective movements keeping wire management clean and compact.
Easy maintenance
Slide-in covers make it super easy to replace a component on the print-head. Due to the diagonal slots, you do not need to remove any screw.  Back and bottom covers are also attached one to another and be can removed as one part. Easy!
Consider upgrade to the new enclosure and enjoy a rear maintenance hatch, this small opening allows easy access to the secondary IDEX extruder. Check below for more details.
The IDEX impact on your daily printing
Print tiny features like a pro!
Thin features come out nice and clean even when they face downwards. IDEX leaves high quality surface finish at tiny scales which are important for tight tolerances. Since the breakaway is lightly bonded to the part, it will not break during removal. Very thin and fragile features should be printed with soluble support filament due to its flexibility.
With the new IDEX you will forget that this is actually a large scale machine as it may out-perform at least some of your desktops…
Fast Support Removal
Easy breakaway support removal filament will save you much of time needed to remove support, especially on big and complex models.
The video shows a small flat section, now imagine long parts, heavy and complex support structure. Sometimes support structures may be located inside a partly internal geometry (i.e duct) . These support structures are now way easier to remove.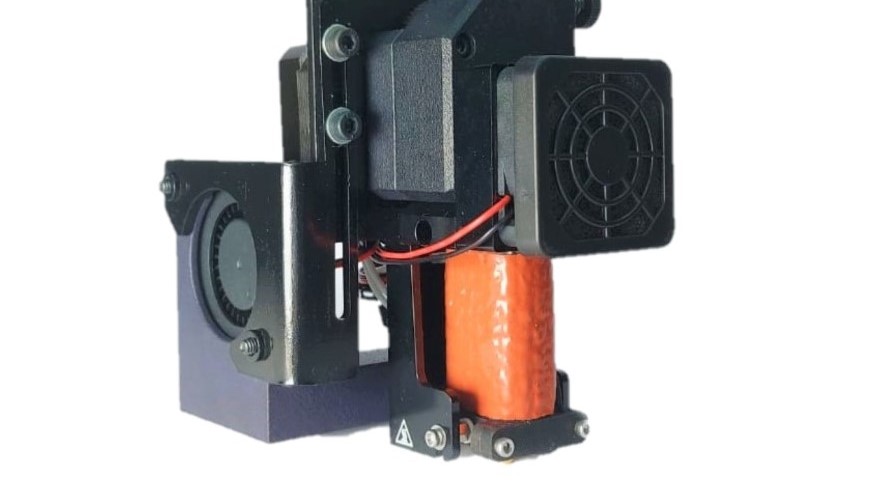 Print faster
By combining Super Volcano on one print head and a standard Modix's Griffin on the other head, both printing the same material, a smart slicing profile can be generate for printing the infill faster with low resolution while the shell can still enjoy the high resolution and accuracy of the standard Griffin better retraction and small nozzles.
What's in the box:

Complete Upgrade option:

New X Axis: Nema-23 Motors & brackets
New Y axis:  Two new Nema-17 motors with strain relief wires & brackets
IDEX – Primary and secondary print head components including:

Two new Nema-17 motors with strain relief wires & brackets
Two Griffin hotends
Standard and mirroed BMG extruders (custom modified for Modix)

Optical end-stops for both X and Y axis
Complete new electronic box

 

including

 

Duet and Duex.
You can keep you existing boards as spare parts.
Drag chains and PTFE tubes
Misc other components related to each model.
Terms and lead time:
Lead time

 

– This is a pre-order campaign. Orders will be collected until the end of December and then we start production according to the amount of orders. Production time is estimated to 4-5 weeks and therefore we should be able to start ship during February 2023.
Lead time for specific add-on (check list below), is based on stock of each component. Contact sales for details.
Late orders –

 

Any late order (after 31th December) will have to wait for the next production round later in Q1/2023.
Owners of old V1 & V2 –

 

These versions are not compatible with these upgrades (including owners of V2 who upgraded to V3)
Owners of BIG-40

 

–  We currently do not offer upgrade path for BIG-40 but we will be more than happy to spend that effort it if there will be enough demand. If your are interested with that upgrade, please send us an email to sales@modix3d.com.