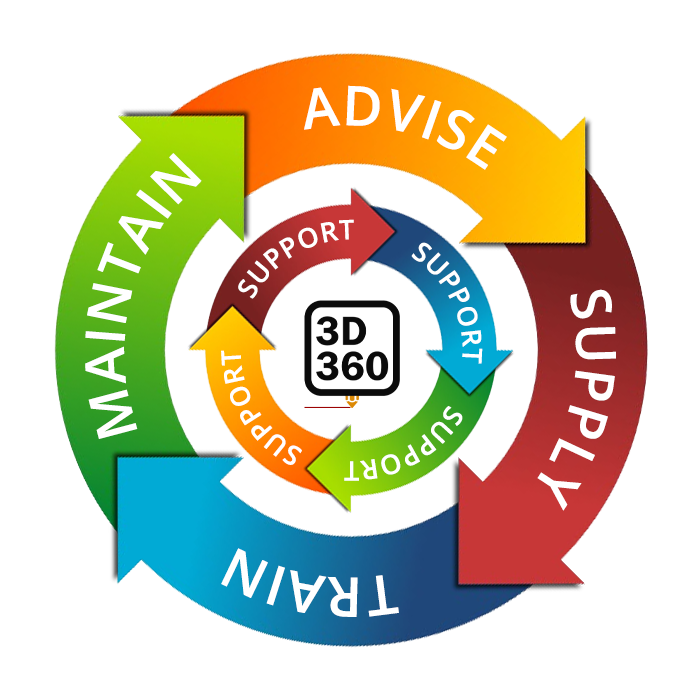 GUIDING YOU THROUGHOUT INDUSTRY 4.0
who are 3d 360?
"Breaking the Mould"
3D 360 is born out of industry and the realisation that 3D printing is the future of manufacturing and is changing the way things are made today.
3D 360 is owned and run by two vastly experienced engineers from the Nuclear, automotive, and commercial design sectors. Both have many years' experience providing consultancy services to the engineering and manufacturing sectors and in utilising 3D printing within industry for prototyping and production applications.
The 3D 360 support ethos comes from our extensive experience within industry in supporting equipment through its entire product life cycle, and not just stopping at selling you a printer.
Our aim is to support you and your equipment through its life, offering ongoing advice on how to achieve the best results from your printer.
Packages
3D 360 were advisors to the High value manufacturing catapult for the government commissioned Emerging skills Project for AM and are the only UK training provider to deliver the entire pilot training programme.

The UK Government commissioned the programme to identify key digital skills gaps and produce short and effective training programmes to rapidly upskill the UK workforce.

We are also working with Pearson's to write the 2023, level 4 & 5 (HNC & HND) further education curriculum for AM.

1-day onsite training including the commission of your new machine and introduction to Additive manufacturing.

Once your machine is fully working out skilled trainer technician will demonstrate to your team how to operate your new piece of equipment covering the following areas

Slicing software functionality.
(Temperature, material, infill selection, layer height, adhesion and support options)
Remote printing and monitoring

Printer calibration
Build plate levelling or auto levelling sequence
Printer set up to a ready to print condition
Filament loading and unloading
Perform sample calibration or manufacturers' recommended print
Nozzle change / replacement

Maintenance schedules
Routine Maintenance
Recommended service schedules and location of components
Scheduled Maintenance
Consumables


Two-day extended course
The additional day allows our trainer to recap and go into greater detail on the previous day's subjects. Additional areas would be:

Advanced slicing setting
Multi filament / Resin set up and change over procedures
System integration
Practical demonstration on how to replace serviceable components

Specialist Bespoke training packages tailored to your requirements.
3D 360 was born out of industry and our team have the
experience and expertise to support you through your Additive and digital manufacturing journey.  
With the support of our friends at EVO 3D, our combined technical teams can produce and deliver bespoke training designed to address your current and future production needs.

Some examples of training courses we have delivered to industry and education.

• Advanced technician training for in house servicing, upgrades and repairs
• Multi-printer type and manufacturing process integration for hybrid production
• Design for AM (Products, checking fixtures, test rigs, customer engagement)
• Advanced introduction to AM covering the 7 major AM processes and applications
• Volume production using AM – Printer farms, JIT cells & rolling maintenance support
• Additive Manufacturing integration for production parts
• Introduction to Digital manufacturing / industry 4.0
• Advantages of using AM – Cost savings, carbon footprint, energy savings, flexibility
• Using 3D printers to produce obsolete parts for production lines, equipment
"The infectious and knowledgeable enthusiasm of 3D 360 has been FANTASTIC, giving us the confidence to invest in the appropriate 3D systems to meet our operational aspirations. In 3D 360 we have found a GREAT solutions provider and most welcome partner, creating the foundations for a productive, innovative future."
"After completing the 3D 360 3 day course in March, it has not only given me the skills to build and maintain a 3D printer, but also the confidence to tackle any problems that may occur when using a 3D printer."
"We contacted 3D 360 for assistance and the services they provided to us exceeded all expectations" – "Very Highly recommended!"