Size does matter …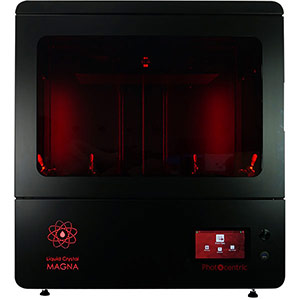 The LC Magna 3D printer supercharges product design, enabling you to move from prototyping to production in hours. The Photocentric LC Magna builds on the success of the original 3D printer. Delivering fast, highly accurate prints suitable for a huge variety of industries and applications.
Technology: Daylight
Build Volume: 510 x 280 x 350 mm
Print Speed: 16mm per hour
The only 3D printer that can deliver significant speed, volume and cost savings to your business today. The evolution of LC Magna continues with a host of new features added for 2021. We invented 3D LCD printing and the LC Magna 3D printer continues to represent the pinnacle of our product development. With 1,000's successfully deployed around the world get in touch today to see how Magna can transform your business.
Get to market quickly – in days rather than months
With an LC Magna 3D Printer you're not spending time on tooling and set up. The versatility of the LC Magna supercharges product design enabling you to move from prototyping to production in hours.


Whether it's small batch, on-demand or full production the LC Magna 3D Printer is your perfect partner to consistently deliver accurate end-use parts at scale.


An agile and flexible solution
With end-use part costs comparable to injection moulding, the LC Magna 3D Printer is the essential choice for those seeking an agile and flexible solution for product manufacture.
Combining speed, volume and cost benefits not achievable with any other comparable printer on the market today, the LC Magna 3D Printer delivers a genuine competitive advantage.
Rapid printing speeds

16mm per hour enabling large volumes of parts to be printed quickly, accurately and consistently.
Printed at 100μm.
Over 95% of scanned data within +/- µm
Largest LCD 3D printer

With a large platform and build volume of 510 x 280 x 350mm a wide variety of parts can be easily produced.
Cost Advantage

Complemented by our own range of high performance resins, LC Magna delivers an unbeatable value proposition
Why Daylight?
Daylight 3D Printing is far better for screen life, lower in energy usage and safer, but it also makes printing more reliable, delivering a more even cure than higher intensity UV with its greater depth of penetration. It is much more effective to use daylight with dark coloured or particle rich formulations as the longer wavelength travels further.
The machine that breathes
Photocentric have spent 1000's of hours developing proprietary technologies that enable consistent, high-quality prints to be produced at scale. Blow-Peel is a patented technology that features in our LC Magna.
A Gamechanger for Additive Manufacturing
Jointly developed by Photocentric and CoreTechnologie, the innovative Photocentric Additive software suite has been specifically created for the LC Magna.
The software sets new standards enabling 3D models from all common CAD formats to be read and prepared for additive manufacturing processes directly as an exact, intelligent and light B-Rep geometry.
With an innovative texture module the user has access to more than 5,000 different 3D texture structures to apply to their models.