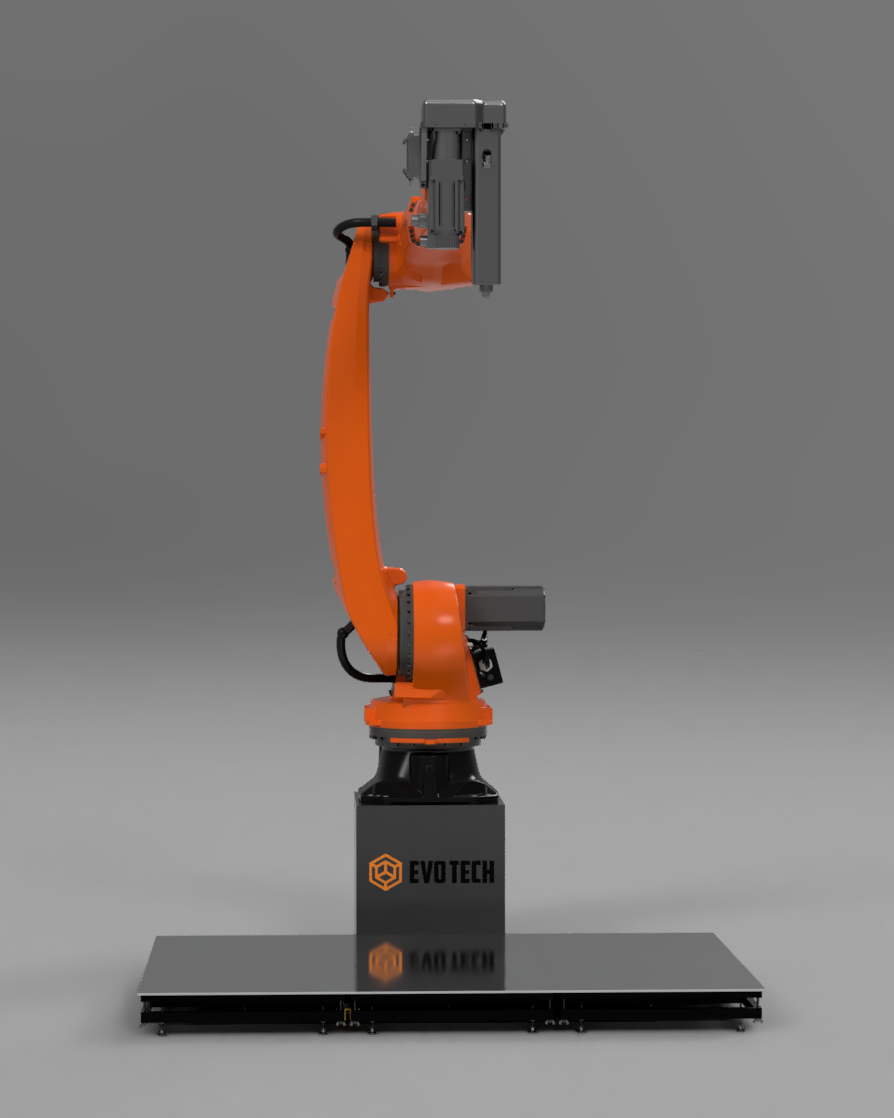 packages
The Extended Arm Rev3rd edition
PACKAGES
The Extended Arm Rev3rd edition

KUKA-KR-120-R3900 Robot
KUKA-KR20-R3900
Build volume: X1200 Y1800 Z3193
Ethernet IP enabled

REV3RD RD-M25 Pellet Extruder
12kg/h flow
Auto pellet feeding
Feeding Zone Liquid cooled
2.5 to 10mm nozzle
500c heating using 4 zones
RD-M25
WATER COOLING - HOT ENVIRONMENT READY
The RD-M10 is able to operate in any environmental condition. The water-cooling loop keeps the whole system (motor, screw shank, reducer and feeding zone) at a constant temperature.
CUSTOMIZED EXTRUSION SCREW
The bimetallic customized screw design is optimized for high-resolution 3D printing. Two tapered bearings, which support the screw, allow a low friction rotation, a bore centering of the screw in the barrel and can handle the whole high axial force required to extrude in high-speed and pressure conditions.
MELTING ZONE SENSOR
The temperature sensors are placed only 0,5 mm away from the molten polymer. Readings are reliable and accurate.
TRI-ZONE HEATING SCREW CONTROL
The triple heat zone design helps to keep the polymer at a constant temperature. The feeding section receives cold pellets and generates more heat to melt them. Then, the compression zone stabilizes the polymer at a precise temperature ensuring the plastification process (all the solid pellets turn into a molten status). Finally, the metering heater ensures an even flow.
MULTIPLE NOZZLE SIZE
RD-M10 can be used with large nozzles from 2.5 mm up to 10.00mm. They can also be customized.
PRECISE TEMPERATURE CONTROL
The four K-type thermocouple sensors are class 1, high precision sensors. The circuit has been designed to use the best resolution between 20°C and 500°C.
UNIFORM HEATING
The spiral heaters wrap the whole heated barrel and ensure uniform temperature along the whole length end of the extruder.
HIGH-TEMPERATURE MATERIALS: PEEK, ULTEM, PSU
The high-temperature heaters, temperature sensors, and extrusion components enable printing up to 500°C.
2000 WATTS HEATING POWER
High flow means high energy. The 2000 Watts heating system ensures stable temperature in high-speed 3D printing conditions.
BREAKER
The fast speed of RD-M10 is managed by a breaker. Like the faucet filter does with the water, the breaker aligns the output flow in order to avoid the spiral effect created by high-speed.
What does the Control Console do?
1. Allows the user to set zone temperatures on the REV3RD for maximum control
2. Allows the users to control a heated bed
3. Controls the REV3RD Material feeding (when combined with an EVO Tech Hopper system)
4. Control the Liquid Cooling for the REV3RD Extruder
5. Real-time Synchronization of extrusion speed to the KUKA KR4 Controller
6. Manually control Part cooling with a Compressed Air Valve mounted on the REV3RD Control Console
With a simple user interface, you can control the Console either at your desk with a Web application using an Ethernet Connection or using the touch screen mounted on the Console.
package deals
Ensuring the best all-round solution
WANT TO KNOW MORE?
CONTACT US